So, after weeks of knitting (and dealing with some stress left over from tendonitis in my left wrist) my Sockpalooo-za Socks are done!
Here's sock 2 (still blocking)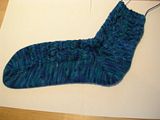 Here's sock 1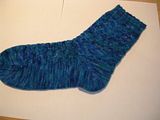 Here are both socks together (no tricks here!!)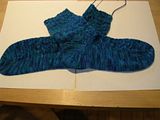 Oh, you all want specs eh?
Yarn:
Furry Yarns
Maine Bear Sox in Aegean
Needles: Comfort neon yellow US 1s for both cuffs, Inox/Prym DPNs US 2 for sock
#1
, Prym US 2 circs for sock
#2
Started: Sometime in March, ended April 22
Pattern: Rainy Day socks from "The Sock Calendar"
Mods: None
Would I knit these socks again: Definitely. Though maybe not with this yaarn, as it tangles very easily.
All I need now is to send them out. My sockpal is real lucky that our feet are different sizes because I LOVE these socks.
How I'm Feeling:
happy
Windows down, radio on: Cubs on WGN